Coal fired Boiler
The coal fired boilers produced by our company are strictly according to the environmental protection standard, which are in the leading level of boiler industry, have reached the advanced world level. The products can meet the different needs of customers with advantages such as high efficiency, energy conservation, environmental protection, strong overload ability, wide coal adaptability, reliable performance, etc. The coal fired boilers includes chain grate boiler, circulating fluidized bed boiler, and the evaporating capacity can reach to 750 t/h, which can meet the needs of various industries. They are widely used in thermal power plants, Industrial enterprises, chemical factories, pharmaceutical factories, universities, etc
If you have any questions, please Email us at [email protected] or Call us at 0086-371-86062323 for more support.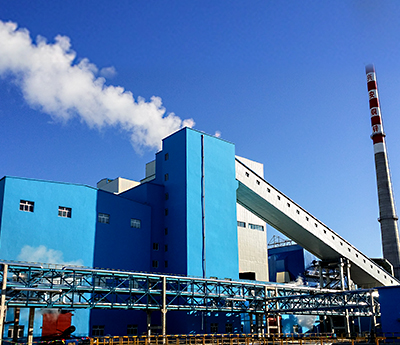 External CFB Coal fired Boiler
Power-saving, coal-saving, less-wear
Excellent fuel crusher and screening system
Low bed pressure operation,high combustion efficiency
Low-resistance bell-type hood
Advanced automatically adjusted back feeder
Whirlwind separator of low resistance, high efficiency
Strong adaptability for fuels
Low operation cost
High desulfuration efficiency
Energy conservation and environmental protection
External CFB Boiler Structure
Patented automatically adjusted back feeder of high flow rate and low-power, the cycle combustion system that's composed by bell hood, super high efficiency cyclone separator and materials returned device can save power consumption for customers. Advanced membrane water wall structure.There is almost no wear and tear on the heating surface, the annual running time was up to 8000hours.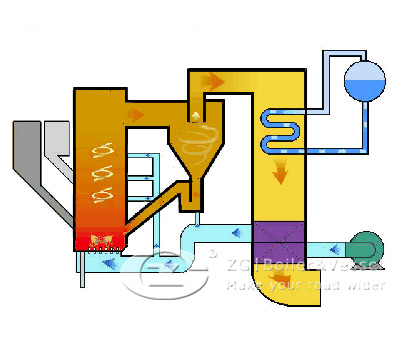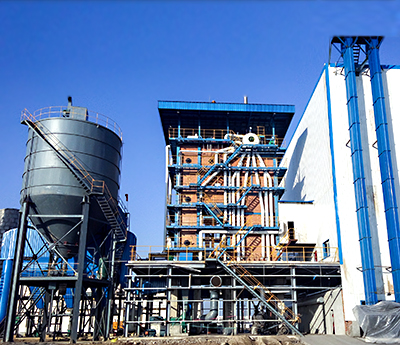 Inner Circulating Fluidized Bed Coal fired Boiler Advantages
High efficiency, stable operation
Excellent desulfuration efficiency
lower price than Outside CFB Boiler
Grading air supply, low NOX emissions
Strong adaptability for fuels
Standard less wear design
Advanced wear design, low maintenance rate
Simple fuel preproccess system
Clean and environmental protection
Energy conservation and environmental protection
Inner CFB Boiler Structure
The use of membrane water cooling wall to layout the combustion chamber, separator and fly back feeding system into one, the separator has unique structural design. The wear-resisting design has applied a number of measures. Increase the separation of spiral diff-user inlet and offset center tube.Optimize the burning equipment, slag drop tube, water system.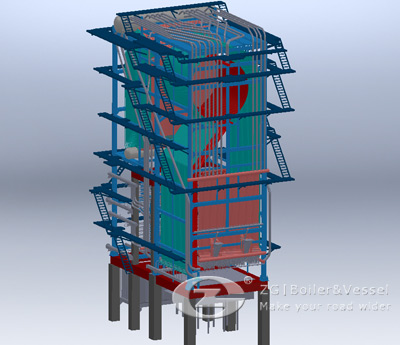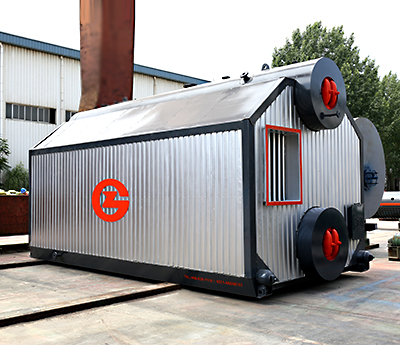 Chain Grate Coal Boiler Advantages
High combustion efficiency
Better air seal and no distortion in the setting
High overload capacity
Strong adaptability for fuels
New type grate bars, long service life
Simple operation, easy to maintenance
Few harmful gas discharge
Advanced wind adjustment structure
Quick set up, low operation cost
Energy conservation and environmental protection
Chain Grate Coal Boiler Structure
The newest research product downside "a" structure makes the lean coal combustion easier and it can adjust itself to a wide range of coal types are available. Membrane water wall structure to ensure the seal ability of the furnace and improve the boiler efficiency. Advanced and reasonable grate to ensure fully fuel combustion and enhance the overload capacity.Excellent grate bars can serve for longer time.
Coal fired Boiler Application
food industrial

Central Heating

Chemicals Industrial

Hotel industry

swimming pool

Textile Mill
Relate Products